Home Page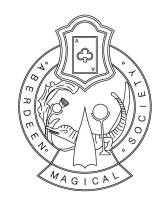 Welcome
Welcome to the web site of The Aberdeen Magical Society.
We hope that you enjoy browsing through the information about us on these pages and find them not only informative but also useful. For example, if you require the services of a professional entertainer, look no further than the Find a Magician page for a selection of top quality, local magicians. A very brief (and often far from serious) description of each them plus a link to their own web sites should help you to make the right choice. Failing that, contact us.
Latest News
Go to the News page for the latest happenings concerning the Aberdeen Magical Society. This site is updated at least once per month.
CLICK HERE FOR NEWS PAGE - LAST UPDATED 4th DECEMBER 2023
We're back to holding meetings in person and online!
Feature Article
The latest Feature page is all about our first ever President, W.G. Craigen.
Joining Us
Do you have a genuine interest in magic and want to learn more? Well we won't be revealing any secrets on this site! However, you could always come along to one of our meetings and perhaps even join the Society. Select "contact us" and drop us a line. We will be delighted to hear from you.