News - December 2021
November Meetings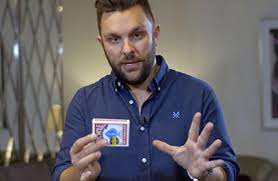 There were two meetings in November, both held at the Sportsman's Club and both were great fun.
Our first meeting of the month was held on the 9th. The main event of the evening was "Gaffs and Gimmicks" with Steve Meredith as our host. It was a terrific evening with lots of the aforementioned gadgets on display. It was great to see everyone who attended take part and there was some very good magic on show. It proves that the gaff or gimmick is only as good as the magician handling it. Steve kept the evening flowing nicely and the time had gone past very quickly.
The second meeting, held on the 23rd, was a lecture from an undisputed master of card magic, Ben Earl (pictured here) with Eoin hosting. Ben presented a splendid lecture with, I'm safe in saying, a little for everyone. He not only demonstrated some exceptional close up magic with cards and coins but spoke a lot of sense about presentation, framing, creating a story, evoking emotional responses and, most importantly, convincing your audience that they've just seen real magic.
Ben and his extensive entourage were happy to chat after the lecture and did well with their book sales. A good night for everyone involved I believe!
Announcements
Breaking news - from October 12th we're going to hold meetings back at the Sportsman's Club on a trial basis. We'll see how it goes.
There is a Society email list available, which James looks after. Contact him for all of the details.
This Month
As is now traditional, there will be just one meeting in Decvember; equally tradiotional is that our host will be the legend that is Ron Gordon. Do your best to get along but if you can't it should be available online (unless Ron gets as precious as another lecturer I can think of). Eoin will distribute details. The meeting will be on the 14th, kicking off at 20:00 at the Sportsman's Club.
Lapsed or Errant Member?
Are you a former member of the Aberdeen Magical Society? Have you lost touch with any current members and want to re-establish ties? Then drop us an e-mail at mail@aberdeenmagic.com or click on contact us.