News - June 2018
May Meetings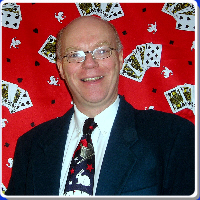 Three meetings were held in May and they were all fantastic! We also had an extra event on the fifth Tuesday which may even help to save lives.
The first of these meetings was a superb lecture from the legendary Gregory Wilson on the 1st. He was fit and well after his recent health issues and was on great form during his time with us. Several members said that they felt it was one of the best lectures we've had. Particularly memorable were his pickpocket routine, a chip on the shoulder, the "Pointless" prop and his various card gimmicks. He is a terrific lecturer and a natural teacher, as well as being a gifted magician and exceedingly funny. Add to that that he is a really nice guy and it adds up to us having a wonderful evening.
On the 8th we decamped to the Lodge on the Loch in Aboyne to recognise and celebrate Peter Nicol's recent investiture (by the Duke of Rothesay) as an MBE. Eight of us went out there and met with Peter and his daughter Mandy. The food and company were excellent and everyone present (except Mandy) performed some magic. The atmosphere was nice and relaxed and we all had a great deal of fun. Just as it should be on a night about Peter.
The third meeting was all about "Bottles and Balls", hosted by Jeff. There was an excellent turn-out but very few takers on Jeff's offer for people to perform. Whether that was through lack of preparation (as was my failing) or simply shyness, I don't know but those who did perform put on an excellent show! Jeff kept things moving nicely. Ron showed us some of his collection of cups (chopped and otherwise) and balls (many of which he made himself); James performed his ever-evolving manipulation act using silicon balls; Stan did a nice vanishing bottle; Norn showed his balls routine; Jeff and Ivor finished off with their take on Charles Gauci's "Body Language". Once again, a great night in the Society provided with no outside help! We're getting good at this.
On the 29th Jim Aitken (pictured), with help from his colleagues Mark and Tom, presented a short course entitled "Heart Start". We leaned about helping people who become unconscious, have chest pains, are choking or are bleeding heavily. A marvellous evening presented by a true professional and expert in his field. Thank you Jim!
June Meetings
June is shaping up nicely too. On the 12th we will hold our competition for Close Up magic. This will be a great night, full of wonderful magic and exciting but friendly competition. The big news is that we'll be competing for a brand new trophy: The Bill Duncan Cup. Bill and Anne will be on hand to present the Cup to the Society and the first winner.
The second meeting is on the 22nd and will be the first Four-Way Workshop of the year. The coaches have been announced as Dave Goulding (who will teach picking and shimming handcuffs with rudimentary tools), Jeff Burns, Ron Gordon and Ivor Smith.
Announcements
There is a Society email list available, thanks to the efforts of Mr. McGrath. To join the list, simply send an email to: john@magicbyjohn.co.uk or contact John or Dave. If we can get everyone in the Society onto the list it will greatly help in the distribution of information and allow us all to communicate swiftly and securely.
We have another, new group address which James looks after. Contact him for all of the details.
Next Month
July is going to be hot! The weather might be nice too. On the 10th we will be treated to an evening all about magic with String and Thread. Obviously, the inventor of Aberdeen Thread, James Dickson, will be our host.
The second meeting is on the 24th and is the dreaded, I mean eagerly awaited, Auction hosted by Garry and Ivor. If there is any time to actually sell stuff, there should be plenty of bargains to be had, so bring money to buy wonderful items to create miracles with and your old crap to flog off to unsuspecting punters.

Lapsed or Errant Member?
Are you a former member of the Aberdeen Magical Society? Have you lost touch with any current members and want to re-establish ties? Then drop us an e-mail at mail@aberdeenmagic.com or click on contact us.