News - December 2018
November Meetings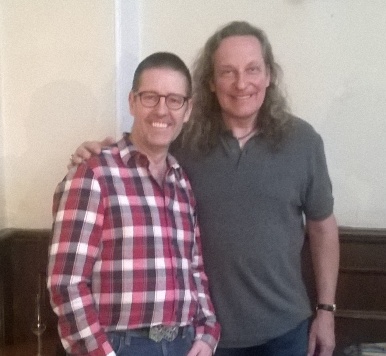 November was an extremely interesting month. The first meeting was the latest in our series of TED Nights. Unfortunately, Arthur had to cancel at the last minute, so the remaining speakers could relax their timing a little. It was also nice to see the legendary pupeteers Scott and Lisa Land as visitors.
Dave (pictured left with last month's lecturer Dirk Losander) took on the role of MC for the evening, starting with a brief explanation of how things would pan out.
He then introduced Neil McArthur who spoke about the importance of presentation, passion, personality, presence and performance. He made some great points that everyone should take heed of.
Cal Reed was next. He spoke most eruditely about Houdini's appearance in Aberdeen in 1909 and how the Aberdeen Lifeboat played its part. He spoke a little about his life with the RNLI too.
Steve Meredith talked about Ken Brooke and showed us some books and other ephemera about Ken, He briefly went through the guest book from the Magic Place which was filled with signatures of all of the greats in magic. Carl Howse was last on, discussing and demonstrating forces in an interesting, amusing and lively way. Carl is keen on his forces alright and he's good at them too.
The second meeting, on the 27th, was our Annual Social Night. The performers were Smith & Burns, James Dickson, Eoin Smith, Norn Bichan, Steve Meredith, Carl Howse, Jono Geary and Garry Seagraves; Neil McArthur and Dave Goulding hosted the rooms. The audience numbers were a little disappointing but we cut our rooms down to two and filled them both nicely. The performances were fine, the raffle tickets sold well and the audiences enjoyed themselves immensely – of course the most important point.
We made a decent amount of money and the reputation of our Society was once again greatly enhanced. Our thanks must go to Maureen, Jenny, Tara, Cathy and Margaret who all did splendid work; Maureen deserving special mention, doing the work of Hercules in controlling the initial crowds and collecting all of the money. A massive thanks also to everyone else who took part.
December Meetings
December is traditionally our quietest month as a Society, due to how busy everyone is otherwise!
The only scheduled meeting is on the 11th with a Technical Night. This will be, as is now as traditional as mince pies, hosted by Ron Gordon. I have no idea what Ron has in store for us but it usually a highly enjoyable evening.

Announcements
There is a Society email list available, thanks to the efforts of Mr. McGrath. To join the list, simply send an email to: john@magicbyjohn.co.uk or contact John or Dave. If we can get everyone in the Society onto the list it will greatly help in the distribution of information and allow us all to communicate swiftly and securely.
We have another, new group address which James looks after. Contact him for all of the details.
Next Month
January looks like being a cracking month!
The first meeting, to be held on the 8th, will be the usual Ace of Spades Night and in a repeat of last Year, Cathy Lewis will be our host. You may remember that last year Cathy demonstrated her baking and pastry skills (partly learned at Malmason Hotel) and she informs me that she intends to do the same next month. Yum!
The 29th sees our second meeting which follows on nicely from the first and is themed as Food Magic. To absolutely no one's surprise, the host for the evening will be the famous gastronaut and bon viveur Jeff Burns. I'm sure Jeff will let us know what he expects of us a little nearer the time. I am looking forward to this one.
Lapsed or Errant Member?
Are you a former member of the Aberdeen Magical Society? Have you lost touch with any current members and want to re-establish ties? Then drop us an e-mail at mail@aberdeenmagic.com or click on contact us.