News - August 2020
July Meetings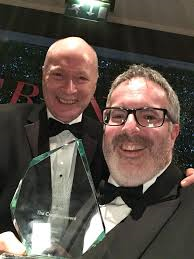 Our meetings are back! Not only are they back but we are following (more or less) our original programme. They are held using Zoom but that doesn't really matter too much.
The first meeting was on the 14th and was changed to "Zoom Magic" with Ivor (pictured left with Jeff) as host. The theme was intended to showcase magic that could be effectively presented online and all of the members who presented something achieved that very nicely.
Jeff (pictured left with Ivor) stepped in as host for our meeting on the 28th which waas themed as "Predictions". He started by defining and talking about predictions and commented that what most magicians do are revelations rather than predictions. He then did a Chad Long effect which is a very nice force and reveal. Almost all of the members present then demonstrated a prediction effect which made for a very pleasant evening. Jeff called a halt at 9:30 and thanked everyone who had taken part for their efforts.
Announcements
Due to the Covid-19 situation, our meetings are being held online. Please check out this site, our Facebook page and members' emails for further news.
There is a Society email list available, which James looks after. Contact him for all of the details.
Next Couple of Months
For the time being we are back to our original programme, albeit online, so in August we'll have a Book Night and, of course, the AGM. Details will be sent out for both; keep an eye on your email. Let's hope that it isn't too long before we're back at the Sportsman's Club!
Lapsed or Errant Member?
Are you a former member of the Aberdeen Magical Society? Have you lost touch with any current members and want to re-establish ties? Then drop us an e-mail at mail@aberdeenmagic.com or click on contact us.