News - August 2019
July Meetings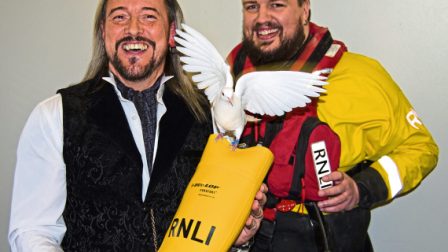 There were two meetings in July, both of which saw debutee hosts
The first was held on the 9th, and was all about Cards. Unfortunately, Cal had to withdraw from hosting duties at the last moment but Chris Barker (with a wee bit of help from Dave) stepped in and everything went swimmingly.
Chris talked about his pet subject, collecting decks, with great knowledge and passion and had more than a few samples for us to check out. He spoke about the various benefits of different decks for diverse uses and demonstrated some. He proceeded to do a nice "card lost from sealed deck" effect.
Dave then stepped in to "encourage" other members to show us some of their stuff and they responded beautifully. Marcus, Ron, Neil, Jeff, Jim, Stan and James all stepped into the breach. Once again, a great night where we had to adapt, improvise and overcome. No problem for the likes of us.
The second meeting was on the 23rd and was an evening of Mental Magic with Arthur Hadden making his hosting debut. He talked about Mentalism and his views on it; his influences and some of the characters whose magic he is interested in. Arthur showed us some nice effects, mainly using props he made himself. He even told us how to make them and where to source the raw materials. He asked several of us to perform some mental magic too. We had another good night of in-house magic.
.
August Meetings
August is scheduled to be rather wonderful.
On the 13th we are due to be visited by the fabulous Joshua Jay to lecture for us. This will be Josh's only lecture in Scotland on this tour and I am looking forward to it immensely. Having spoken to Josh, he and his buddy/colleague George (who will be touring with him) are looking forward to seeing us again equally. And who can blame them!
The 27th is the most important night of the year, our Annual General Meeting. A full turn-out would be brilliant and everyone can have their say about the Society.
On the 30th is our biggest show for a couple of years - Harbour Sleights. This will raise funds for the Aberdeen Lifeboats and a bit for the Society too. Keep Pushing Tickets!
Announcements
There is a Society email list available, which James looks after. Contact him for all of the details.
Next Month
September is the New Year when it comes to the Society. We will celebrate by having the first meeting on the 10th with Steve Meredith hosting an evening all about Money Magic. The Second TED Night of the year is the on the 24th. As yet, we don't have a host or any speakers/performers, so volunteers would be very welcome!
Lapsed or Errant Member?
Are you a former member of the Aberdeen Magical Society? Have you lost touch with any current members and want to re-establish ties? Then drop us an e-mail at mail@aberdeenmagic.com or click on contact us.