News - March 2021
February Meetings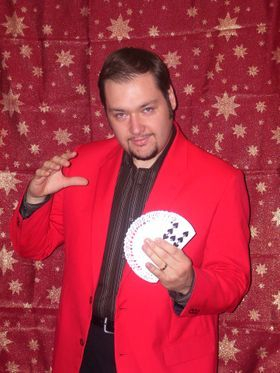 The first meeting was "I'm a Magician, Get Me Out of Here" hosted by John Boyd. It was an interesting and informative night with most people contributing. There were some good stories about various SNAFUs and how they were or weren't got out of, as well as some nice effects with multiple possible endings being demonstrated.
On the 23rd Paul Rae (pictured) hosted a TED Night. Paul spoke first, extolling the merits of performing mentalism for kids. He delivered a really fine talk and we're all convinced! Dave talked about his adventures and contributions to making "The Curious Life and Death of Houdini" for the Smithsonian Channel.
After a short break, Ivor spoke about Mark Wilson and his admiration for him. Jeff rounded things off by talking about engineers, inventors and particularly about Joe Porper. Paul summed up the proceedings nicely, thanked everyone for taking part and handed back to Garry. Garry then thanked Paul, Dave, Ivor and Jeff, reminded everyone about the next meeting and closed proceedings at a little after ten o'clock.
Announcements
Due to the Covid-19 situation, our meetings are being held online. Please check out this site, our Facebook page and members' emails for further news.
There is a Society email list available, which James looks after. Contact him for all of the details.
This Month
Our first competition of the year, the Ron Gordon Cup for Card Magic, will be held on March 9th. Garry will host the event as Ron has already committed to take part in the event. On the 23rd the legend of Tyneside Carl Howse will host s new evening called Magic Without a Table. This should be really interesting and very useful in these times of performing without the inerraction of an audience.
Lapsed or Errant Member?
Are you a former member of the Aberdeen Magical Society? Have you lost touch with any current members and want to re-establish ties? Then drop us an e-mail at mail@aberdeenmagic.com or click on contact us.