News - November 2018
October Meetings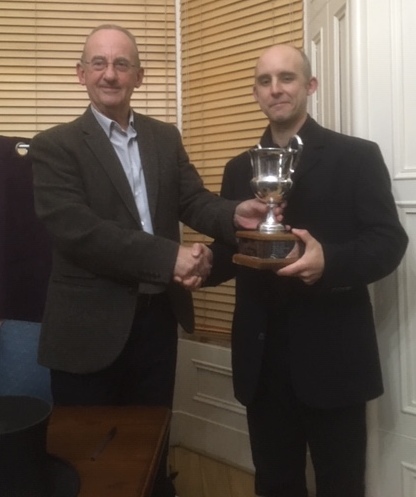 October was a truly excellent month for the Society, featuring two meetings of the highest possible quality.
The first meeting was on the 9th and was our annual competition for Entertainment: The Jocky Scott Trophy. There was a field of the highest calibre, totalling five entrants. Steve Meredith hosted the event in Garry's absence and did a fine job. The entrants (in order of appearance) were: Dave Goulding with a magic tribute to the late, great Andy Kaufman; Kelsie Murphy with a routine of cards and a brilliant Rubik's Cube effect; James Dickson performed a variety of effects, the highlight (in my opinion) being his take on Rubik's Cube magic; Jono Geary found a selected card but lost most of his clothes and all of his dignity; Jim Aitken rounded things off with his Doric Mentalist.
Once Steve totted up the scores the popular and well deserved winner was Jono Geary. Steve presented him with the trophy (presentation pictured) and opera hat and the usual photos were snapped.
Steve showed and taught his "day of the week for any named date", then thanked all of the competitors, time keeper and judges. The VP then thanked Steve who was given a nice ovation.
On the 23rd we had the privilege of welcoming a real live legend of magic to the Sportsman's Club in the shape of Dirk Losander. We are all fully aware of his levitations and he did not disappoint us on that score. He also gave us a master class in use of the thumbtip and spoke about presentation generally. He emphasised the requirement to turn skill into magic - but said that the magic couldn't happen without the skill! We were not only treated to an amazing display of magic, resulting from an enormous amount of skill and years of practice, but he also explained at length how he does it all. A wonderful night and lecture.
November Meetings
We are starting on the 13th with a TED Talk meeting. The participants are a splendid bunch; a terrific mix of youth (Cal) and (some) experience. Dave will introduce them on the night but here is the line-up and I'm sure you'll agree that it will be something to look forward to. Carl Howse, Steve Meredith, Cal Reed, Neil McArthur and Arthur Hadden. Wow!
On the 27th we will be holding our annual Social Night. This is our biggest fund-raiser each year so get selling tickets now! The eight entertainers will be Fifth Dimension, James Dickson, Eoin Smith, Norn Bichan, Carl Howse, Steve Meredith, Jonathan Geary and Garry Seagraves. It will be great. And don't forget the raffle! We need prizes for Garry and Ivor to wax lyrical about and take the piss out of.
Announcements
There is a Society email list available, thanks to the efforts of Mr. McGrath. To join the list, simply send an email to: john@magicbyjohn.co.uk or contact John or Dave. If we can get everyone in the Society onto the list it will greatly help in the distribution of information and allow us all to communicate swiftly and securely.
We have another, new group address which James looks after. Contact him for all of the details.
Next Month
December is traditionally our quietest month as a Society, due to how busy everyone is otherwise!
The only scheduled meeting is on the 11th with a Technical Night. This is usually hosted by Ron Gordon but circumstances may dictate that we have to use a substitute this year. There is no definite decision as yet, but please stay posted for the latest news.

Lapsed or Errant Member?
Are you a former member of the Aberdeen Magical Society? Have you lost touch with any current members and want to re-establish ties? Then drop us an e-mail at mail@aberdeenmagic.com or click on contact us.