News - August 2018
July Meetings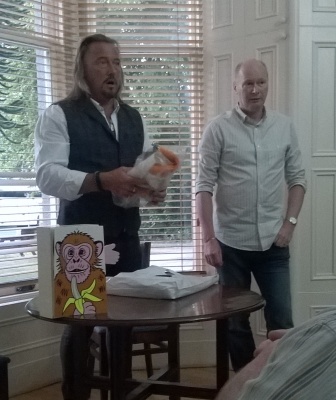 Just two meetings in July and they were both excellent - as usual.
The first meeting was on the 14th; the subject for the evening was Rope, String and Thread hosted by James Dickson. James showed us examples of each and it was decided that their definitions are based on thickness (generally). James also treated us to a work in progress that is already very good but, perfectionist that he is, he isn't totally happy with yet. We were treated to a wide range of effects using the subject props with Stan, Ron, Norn, Garry, Eoin, Ivor and Kelsie all showing off their stuff. The curtain was brought down by James with his own invention, Aberdeen Thread, performed very nicely to music. This was a really good night of fine magic, good chat and superb entertainment.
The second meeting was on the 24th and was a resurection of an old favourite: The Auction. Garry and Ivor undertook the duties of hosting, auctioneering and keeping everything going at a nice pace. Jeff did the paperwork and looked after the financial transactions.
Lots of goodies were bought and sold and we had a load of laughs. There were several bargains acquired and I must say that the interest in vintage magazines was pleasantly surprising.
August Meetings
August should be rather interesting. On the 14th, James will once again be our host when we delve into magic using Liquids. This should be a fascinating evening with a wide variety of magic on show.
On the 28th is our Annual General Meeting. This is where we set the tone for the coming year, reflect on the happenings of the previous twelve months, check our finances and elect our officers. This is a hugely important meeting and I sincerely hope that everyone can make it.
Announcements
There is a Society email list available, thanks to the efforts of Mr. McGrath. To join the list, simply send an email to: john@magicbyjohn.co.uk or contact John or Dave. If we can get everyone in the Society onto the list it will greatly help in the distribution of information and allow us all to communicate swiftly and securely.
We have another, new group address which James looks after. Contact him for all of the details.
Next Month
September should be rather good with two meetings and a workshop.
On the 11th we are delighted to welcome Noel Qualter who will lecture for us. The following evening Noel will be running a workshop in the Sportsmans Club. Please contact Eoin (who will host both events) for details about the workshop. Noel is a magician with a great reputation and both evenings should be wonderful.
On the 25th we are holding our Seccond 4 Way Workshop of the year. This should be a great night if the previous incarnations are anything to go by. The instructors haven't been arranged yet but stay tuned for news.

Lapsed or Errant Member?
Are you a former member of the Aberdeen Magical Society? Have you lost touch with any current members and want to re-establish ties? Then drop us an e-mail at mail@aberdeenmagic.com or click on contact us.