News - January 2019
December Meetings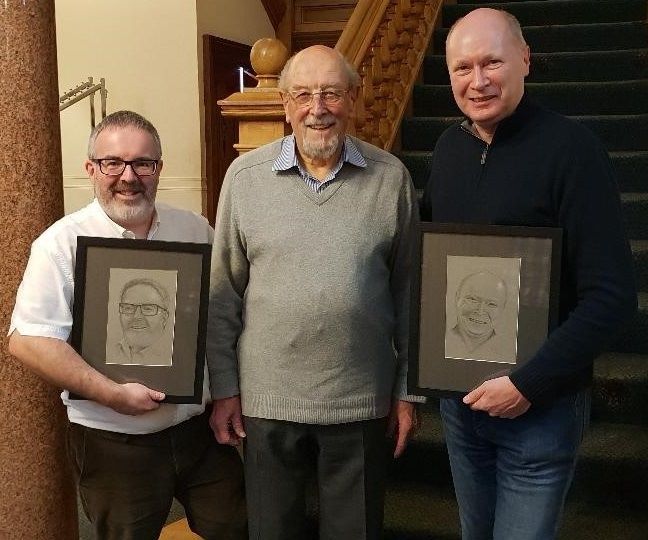 December traditionally has only one meeting but it is usually very interesting and great fun. This year was no exception.
The meeting was our annual Technical Night with Ron hosting. Ron concentrated on various counts (such as the Elmsely, Hammond/Jordan, Flushtration, Rumba, The Orlam Subtlety, Buckle and Gemini. He showed the Prophesy move and a variation, segueing nicely into numerous false cuts.
Once he'd finished, he talked about his career in and outside of magic and mentioned his art work. He then surprised Jeff and Ivor by presenting them with a portrait each as a token of his friendship with them. The three gentlemen concerned are pictued here.
Garry then thanked Ron and handed over to Jeff and Ivor to conduct a prop sale, featuring some of the equipment used by Peter Nicol.
January Meetings
January looks like being a cracking month!
The first meeting, to be held on the 8th, will be the usual Ace of Spades Night and in a repeat of last Year, Cathy Lewis will be our host. You may remember that last year Cathy demonstrated her baking and pastry skills (partly learned at Malmason Hotel) and she informs me that she intends to do the same this time. Yum!
The 22nd sees our second meeting which follows on nicely from the first and is themed as Food Magic. To absolutely no one's surprise, the host for the evening will be the famous gastronaut and bon viveur Jeff Burns. I'm sure Jeff will let us know what he expects of us a little nearer the time. I am looking forward to this one.

Announcements
There is a Society email list available, which James looks after. Contact him for all of the details.
Next Month
February will be tremendous! There are three meetings planned; all of them looking great, potentially.
The first meeting will be held on the 12th and is the first 4 Way Workshop of the year. The participants have not yet been organised, so if you would like to be an instructor for one of the workshops, please let the Secretary know.
We have an extra special extra meeting on the third Tuesday. The 19th sees our second February meeting, our first lecture of the year! And what a first lecturer we have: none other than the FISM Champion and past International President of the IBM, Shawn Farquhar. This is an event not to miss.
On the 26th we will have the fantastic privilege of a visit to the Aberdeen RNLI Station, courtesy of Cal Reed. An email containing short briefing notes will be sent out to all members very soon. Please read and take heed of these before your visit; the information contained therein is very important.!
Lapsed or Errant Member?
Are you a former member of the Aberdeen Magical Society? Have you lost touch with any current members and want to re-establish ties? Then drop us an e-mail at mail@aberdeenmagic.com or click on contact us.