News - July 2019
June Meetings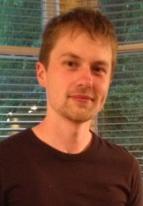 We had two meetings in June, both of which were an enormous amount of fun.
The first was on the 11th and was Our annual competition for Close Up Magic, the Bill Duncan Cup. Garry was our host, master of ceremonies and final adjudicator. The other officials for the evening were Jim Aitken keeping time and Ivor Smith, Jenny Seagraves and Dave Goulding acting as judges.
A strong field lined up to compete. In no particular order they were: Marcus Gordon, James Dickson, Paul Rae, Ron Gordon and Ariel Hamui. It was a great evening of entertainment with some superb magic on show. The competition was tight. Seriously, it was very, very closely fought but once again James Dickson (left) emerged from the pack as the winner. Congratulations to James.
The President's Plate, an award in the gift of the President for whatever he particularly feels like, was presented to
Marcus Gordon
for his "Brilliant work with coins".
The second meeting was on the 25th. Jeff hosted an evening all about Circus and Sideshow. There was some interesting information shared and some good tales from the past told. Jeff himself contributed a lot and even harked back to his days of clowning, producing photographic evidence too.
There were examples of Glass Waltzing, Chin Balancing, Juggling, Plate Spinning and other physical skills on show. There was even an example or two of magic. Sadly, we ran out of time so Garry couldn't show us his ability on the unicycle. It was a really fun night.
July Meetings
July will be just as good as we have now come to expect of our meetings.
On the 9th Cal Reed will make his hosting debut, presenting an evening on Cards. Everyone attending should come prepared with a couple of effects; the more obscure, the better! This will be a great night, I am sure.
The 23rd sees Arthur Hadden host an evening based on his pet topic of Mental Magic. Arthur does a nice line in The Bizarre so we should be in for a great night.
Announcements
There is a Society email list available, which James looks after. Contact him for all of the details.
Next Month
August is planned to be rather wonderful.
On the 13th we are due to be visited by the fabulous Joshua Jay to lecture for us. This will be Josh's only lecture in Scotland on this tour and I am looking forward to it immensely. Having spoken to Josh, he and his buddy/colleague George (who will be touring with him) are looking forward to seeing us again equally. And who can blame them!
The 27th is the most important night of the year, our Annual General Meeting. A full turn-out would be brilliant and everyone can have their say about the Society.
On the 30th is our biggest show for a couple of years - Harbour Sleights. This will raise funds for the Aberdeen Lifeboats and a bit for the Society too. Keep Selling Tickets!
Lapsed or Errant Member?
Are you a former member of the Aberdeen Magical Society? Have you lost touch with any current members and want to re-establish ties? Then drop us an e-mail at mail@aberdeenmagic.com or click on contact us.