News - November 2020
October Meetings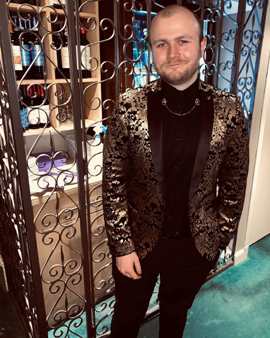 As usual, we had two meetings in October, both held via Zoom and both excellent.
The first meeting was on the 13th; the theme for the evening was Anything But Cards, with Marcus (left) as host. Marcus kicked things off with a "mental Sudoku" routine followed by some terrific coin work. We were treated to excellent magic in various forms from Ron, Ivor, Jeff, Bill, John, Steve, Kenny and our guest for the evening Justin.
Marcus interspersed these artists with more great coin work; particular mention should go to his Himber vanish.
Our now annual Quiz Night was held on the 27th with Eoin as host. Eoin was the question master and it was he who set the questions, came up with the scoring system and kept order. It should be noted here that Eoin did a brilliant job and put in a lot of work to make the evening as enjoyable as it was.
The quiz consisted of six round of ten questions each, all testing the competitors' magical knowledge. The competition was fierce and demonstrated that our members are a pretty knowledgeable and smart bunch; it is also gratifying to see the interest that we take in the history or our art.
Marcus Gordon (pictured here, dressed exactly as he was for the quiz) emerged as the victor, earning praise, admiration and a gift voucher for "Vanishing Inc.".
Announcements
Due to the Covid-19 situation, our meetings are being held online. Please check out this site, our Facebook page and members' emails for further news.
There is a Society email list available, which James looks after. Contact him for all of the details.
Next Couple of Months
We are now back to something very close to our original programme, albeit online. November features three excellent meetings: An Inter Club Nighthosted by Glasgow MC (3rd), a Lecture from Matthew Wright and Harry Robson (17th) and May the Force be with you with Steve as host (24th). December sees us back to two meetings. Ron hosts the traditional, annual Technical Night on the 8th and the 22nd sees An Evening with Bill Seagraves.
Lapsed or Errant Member?
Are you a former member of the Aberdeen Magical Society? Have you lost touch with any current members and want to re-establish ties? Then drop us an e-mail at mail@aberdeenmagic.com or click on contact us.