News - September 2021
August Meetings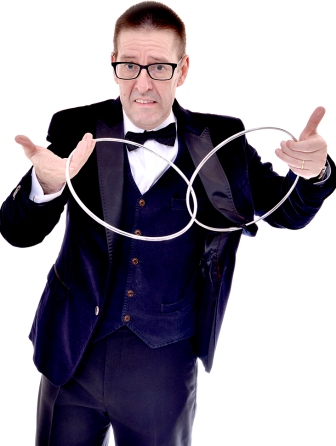 We had two meetings in August, the second of which was our Annual General Meeting.
We kicked things off on the 10th when Dave hosted a meeting titled Stacked. Contrary to what you may have assumed, there was not a die in sight; It was all about using various stacks within a deck of cards, up to and including full memorised decks. Various effects were shown and talked about and there were some really nice ideas on show. It was great to see that all nine attendees participated in the meeting.
The second meeting, held on the 24th, was our Annual General Meeting. As befits the President, it was Garry who presided over proceedings. After welcoming everyone, Garry had the sad duty of overseeing a Broken Wand ceremony for our recently departed brother, Lorenzo Pavarini. Garry delivered a sincere and emotional eulogy, followed by the playing of a video clip of Lorenzo's performance at our RNLI benefit show in 2019. This was, in turn, followed by a minutes applause.
The meeting was pretty uneventful really. All officers and Committee members were re-elected unchanged. The Sportsman's Club is allowing meetings again but we will hold off for a couple of weeks until everyone is comfortable about meeting in person again.
Announcements
Due to the Covid-19 situation, our meetings are being held online. Please check out this site, our Facebook page and members' emails for further news.
There is a Society email list available, which James looks after. Contact him for all of the details.
This Month
Two meetings in September. The first is on the 14th when our President Garry Seagraves hosts a meeting all about Presentation and Patter. With his extensive knowledge and experience, this should be a fascinating night. On the 28th Jono Geary will host a subject close to all of our hearts: Trick from Your Wallet/Packet Tricks/Business Cards. I can confidently guarantee that this will be brilliant!.
Lapsed or Errant Member?
Are you a former member of the Aberdeen Magical Society? Have you lost touch with any current members and want to re-establish ties? Then drop us an e-mail at mail@aberdeenmagic.com or click on contact us.