News - July 2021
June Meetings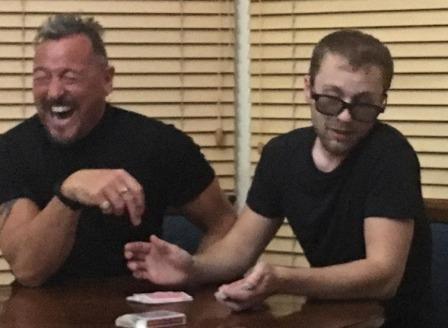 We had three really terrific meetings in June; I hope I can bring a little flavour of them here.
It was a magnificent start to the month. We had the immense pleasure of a lecture delivered by Jay Scott Berry, with Garry as host. Jay has some new work on (and a few tweaks to) his "Cloaking Device" and "PS2", which was great to see. He demonstrated effects with coins, silks and reels as well as loads of other great work.
The lecture was greatly enjoyed by all who attended it and we look forward to seeing Jay "in the flesh" very soon.
The second meeting, held on the 8th, was our annual Competition for Close Up Magic, the Bill Duncan Cup. President Garry was our host; he appointed Jenny Seagraves, Bill Seagraves and Ivor Smith as judges.
There were only two entrants to the competition but the quality more than made up for the small quantity. The magic on display warranted a much higher number of competitors and would not have been out of place at any magic competition anywhere. Paul Rae and James Dickson put on a terrific show. The judges decided that Paul emerged as the victor. Congratulations were offered, speeches made but no photos were taken (obviously). Garry awarded the President's Plate to James for his impromptu performance. He thanked the judges and timekeeper for their efforts and again congratulated the competitors.
The final meeting in June was about Magic with Music; James Dickson was our host and facilitator. James started off by showing his "Balloon" routine (on video) and led a discussion about the uses of music within and around magical acts. He showed the "performance" section of the "Aberdeen Thread" video. He went on to explain why the specially written music for the video is unusable in the real world. Jono showed a musical mentalism effect, then Eoin played a recording of his "YMCA Cards Across".
After a short break, James questioned Dave, Jeff and Norn about aspects of the use of music in magical settings which again led to some interesting and amusing discussion. James concluded the evening with a video of his ball routine which was well received. He thanked everyone who contributed. The Vice President thanked James for a great evening.
Announcements
Due to the Covid-19 situation, our meetings are being held online. Please check out this site, our Facebook page and members' emails for further news.
There is a Society email list available, which James looks after. Contact him for all of the details.
This Month
Just a mere two meetings in July - what will we do with all of that spare time? We start on the 13th with Eoin hosting "An Audience With...". He'll fill us in on details. On the 27th Jeff is our host for an evening bearing the title "Heroes of Magic". They should both be superb events.
Lapsed or Errant Member?
Are you a former member of the Aberdeen Magical Society? Have you lost touch with any current members and want to re-establish ties? Then drop us an e-mail at mail@aberdeenmagic.com or click on contact us.