News - February 2020
January Meetings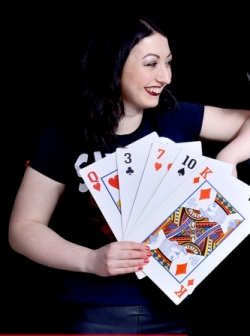 January was an excellent month at the Society, featuring two meeting dedicated to the performing skills of our own members.
The first meeting was the now traditional Ace of Spades and Cake night, held this year on the 14th. Cathy (pictured) treated us to some wonderfully delicious baked goods and delivered them to the premises but was unable to stay for the meeting (she still isn't 100% health-wise) so Dave acted as host for the evening. Rather than drawing cards, he simply picked on everyone and asked them to perform. Everyone rose to the challenge and did beautifully
The second meeting (28th) was all about Bag Magic. While he is a wily old veteran in many aspects, this was Neil's first time of hosting a meeting and he made a splendid job of it. He received offers to perform from most of the members present, introduced them in the approved manner and generally kept things bubbling along very nicely. A good time was had by all which is of course why we attend meetings! Well done Neil.
February Meetings
February looks magnificent! On the 11th Paul will host A Trick From "The Drawer" where we hope everyone will dig something out that they've stashed away for a while and show us why they've ignored it!
A truly special treat is in store for us on the 25th when a genuine legend of Scottish comedy is visiting us. The superb writer, director, actor and perennial Pantomime Dame Alan McHugh will lecture about all thing comedic. This will prove to be superb, I am sure. Jeff will host the evening for us. I can't wait!
Announcements
There is a Society email list available, which James looks after. Contact him for all of the details.
Next Month
March will be a belter. We kick things off on the 10th with the first cometition of the year: the Ron Gordon Cup for excellence in Card Magic. The lad himself, Ron Gordon, will host. I am certain that we'll have a great competition, due to the plethora of masters of the pasteboards which we are fortunate enough to have in our midst. Don't miss this one.
On the 24th we are having a meeting with the title ABC - Anything But Cards. Marcus Gordon (an expert and author on the subject of Card Magic) has been asked to host this meeting by our evil-minded Committee. Marcus is, of course, also highly proficient in most aspects of our art and will be as good at this as he is with a deck in his hands.
Lapsed or Errant Member?
Are you a former member of the Aberdeen Magical Society? Have you lost touch with any current members and want to re-establish ties? Then drop us an e-mail at mail@aberdeenmagic.com or click on contact us.