News - July 2017
June Meetings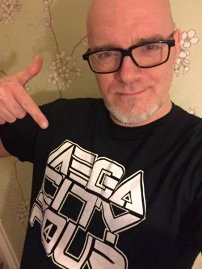 Originally we were going to have two meetings and a workshop in June but due to unforeseen circumstances, Noel Qualter couldn't make it. The two meetings that we did have, however, were terrific.
On the 13th was our competition for close up magic, the Ulster Cup. Garry hosted, MC'ed and acted as judge supervisor and result collator. There was some strong magic on show from the surprisingly small field of entrants (considering the number of attendees present). Just four brave souls took to the close up arena: Jeff, Norn, James and Dave. The magic was good and the entertainment first rate and the judges decided that James should retain the trophy (and, unusually, they were right!) with Jeff receiving the President's Plate.
Garry did the presentations and then showed us one of his own close-up effects; Steve talked about and went through Garrett Thomas's 'Ring Thing' routine. No one else was especially keen to do anything so Garry thanked the competitors, judges (Steve, Ron and Jenny) and timekeeper Eoin.
On the 27th we were delighted to welcome Roddy McGhie as our guest lecturer. He steepped in at the last minute to replace Noel Qualter and I don't thinkk anyone was too disappointed. Roddy comes over as a really nice guy with an engaging personality and establishes a good rapport with his audience. He performed some great card stuff as well as one or two other bits and pieces. What was great to see was the excellent close-up inventions that he has come up with and released onto the market. He had some for sale but was in no way over-pushy about selling props.
He spoke about his experiences consulting for TV programs, his lecture for Penguin Live and about his relationships with other magicians, both in the UK and overseas.
I'm surprised that Roddy hasn't toured with his lecture before; if he does, I'm sure he'll make a great success of it.
July Meetings
July is a month that I have been looking forward to for a long, long time, due to the not insignificant fact that one of my all time favourite magicians and nicest chaps in the world is coming to lecture (and I don't mean Bob).
We start with the aforementioned lecture on the 11th when our very welcome guest is the legenary Shoot Ogawa. Seriously, don't miss this most elegant of performers doing what he does best.
On the 25th it's our own meddler with minds Bob Gordon hosting another great favourite evening - Mentalism. Come prepared with something mindbending or just be prepared to be probed like you've never been probed before.
Announcements
There is a Society email list available, thanks to the efforts of Mr. McGrath. To join the list, simply send an email to: john@magicbyjohn.co.uk or contact John or Dave. If we can get everyone in the Society onto the list it will greatly help in the distribution of information and allow us all to communicate swiftly and securely.
Next Month
August is perhaps the most important month in our calendar as it contains our Annual General Meeting..
We start on the 8th with our first TED type event this year when Jeff hosts an evening of talks themed on The Business of Magic. The participants are yet to be announced, so stay tuned for more news.
On the 22nd it's time for the Annual General Meeting where we will choose our Officers and Committee and have our say on how the Society should be run and what we'd like to see over the next year. This is a meeting that all members should attend and have their say.
Lapsed or Errant Member?
Are you a former member of the Aberdeen Magical Society? Have you lost touch with any current members and want to re-establish ties? Then drop us an e-mail at mail@aberdeenmagic.com or click on contact us.