News - March 2019
February Meetings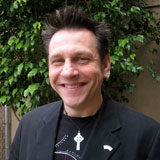 February was amazing with three "events" rather than meetings.
The first was on the 12th and was An Evening with Bill Seagraves. Bill is our Honorary Life President, visiting from New Zealand. The current President, Garry Seagraves (Bill's temporary landlord) hosted. Bill was on great form, giving us a complete performance, interspersed with full and detailed explanations of each effect. Really, it was a wonderful lecture. The packed house thoroughly enjoyed it and gave Bill a splendid ovation.
We had an extra special extra event on the third Tuesday. On the 19th we welcomed a true superstar of magic; a giant among magic lecturers, the past President of the IBM, two time FISM World Champion and five time FISM prize winner, Shawn Farquhar (pictured). He fooled Penn & Teller twice too! This was a superb lecture and I should emphasise that it was truly a lecture. Yes, there were some goodies to buy afterwards but this was in no way a dealer dem. Shawn was as entertaining, educational and charming as ever and we can't wait to welcome him back. Let's hope it is a smaller gap than the seven and a half years between his last two visits to us.
On the 26th, Cal Reed showed us around his place of work, the Aberdeen HQ of the RNLI. We were given a grand tour of the station and the two boats (Bon Accord and "top secret") , as well as all of the equipment that is used. It was fascinating and fun. A massive thank you to Cal, Bec, Susan, Ciaran and Aiden who were very knowledgeable and informative. They made a great audience afterwards too! We are looking forward even more to doing a fund-raising show for them in August.
March Meetings
March is looking good.
The first meeting will be held on the 12th and is the first competition of the year, the Ron Gordon Cup, awarded for excellence in Card Magic. Get practicing now as the competition will be very stiff.
We have another special extra event on the third Tuesday. The 19th sees our own Stan Cowie presenting a short course on Preventing Fire in the Home. This will commence at 7:30 at the Fire Station on Anderson Drive. Details have been circulated; if you missed out, contact the Secretary.
On the 26th James will host his first meeting of the year, based on and around Impromptu Magic. Although it sounds wrong and counter-intuitive, now is the time to start preparing for this meeting!
Announcements
There is a Society email list available, which James looks after. Contact him for all of the details.
Next Month
April has an awful lot to live up to after the first three months of the year.
Eoin Smith will be host, question setter and quiz master for our first meeting which will be held on the 9th: our now annual Quiz NIght. Get swotting on all matters magical and go hunting for glory and prizes. Last year was a great laugh and there's no reason why this year won't be the same
On the 23rd is our first TED Night of the year. The host and speakers have yet to be arranged so if you would like to volunteer, please contact the Secreary as soon as you can.
Lapsed or Errant Member?
Are you a former member of the Aberdeen Magical Society? Have you lost touch with any current members and want to re-establish ties? Then drop us an e-mail at mail@aberdeenmagic.com or click on contact us.