News - April 2021
March Meetings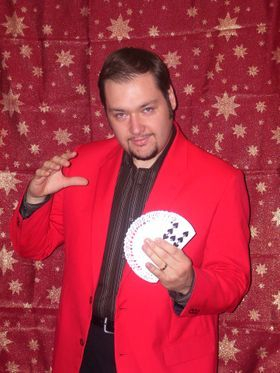 March was well up to the standards to which we have become accustomed; some may say we're spoiled!
The first meeting, held on the 9th, was The Ron Gordon Cup for Card Magic, hosted by President Garry Seagraves. Garry took us through the rules and regulations and made sure that everyone understood them. He asked for entrants to make themselves known and the field consisted of Ron Gordon, James Dickson, Marcus Gordon, Paul Rae and Jonathan Geary. John Boyd was appointed as Timekeeper and the judges were Jenny Seagraves, Bill Seagraves and Jim Aitken.
After a short break, Garry introduced each of the performers in the order: Paul, Marcus, Ron, Jono and James. Each of the competitors was excellent. There were one or two tiny technical hitches but considering that this was our first ever "on-line" competition it was magnificent.
Garry had all of the mark and timings emailed to him. He praised all of the acts and complemented them on coping with the unusual performing medium so admirably. He thanked the judges and the timekeeper for their efforts and then announced that Paul Rae (pictured) was the winner.
The second meeting, held on 23rd, was hosted by Carl Howse and bore the title "Magic Without a Table". Carl spoke about the types of magic that don't use a table, times when you can't use a table and discussed the application of table substitutes. Garry showed us his top hat/prop store/hold-out/rabbit carrier; Bill spoke about the acquisition and use of clear and opaque plastic top hats. Carl talked about pocket management and using hold-outs, both standard and custom made. Ivor, Jeff, Paul, Dave and James all contributed either demonstrations or words of wisdom.
Announcements
Due to the Covid-19 situation, our meetings are being held online. Please check out this site, our Facebook page and members' emails for further news.
There is a Society email list available, which James looks after. Contact him for all of the details.
This Month
There are three meetings scheduled for April. We start on the 13th with Jim AItken hosting an "Improv Night". Think "Who's Line is it Anyway" with tricks in place of jokes. On the 20th Ace Magic Studios will be presenting a lecture and dealer demonstration. The 27th sees the final meeting pf the month when Marcus Gordon will guide us through the complexities of Card Principles.
Lapsed or Errant Member?
Are you a former member of the Aberdeen Magical Society? Have you lost touch with any current members and want to re-establish ties? Then drop us an e-mail at mail@aberdeenmagic.com or click on contact us.