News - November 2019
October Meetings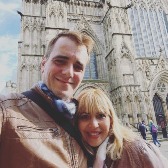 October was a terrific month, featuring two meetings of the highest quality.
On the 8th we held our Competition for Entertainment: the Jocky Scott Trophyl. The President (Garry Seagraves) hosted as is now traditional and while the number of entrants was perhaps a little low, the quality of entertainment and magic on show was very high. Jono came back to defend his title but faced fierce competition from James and Stan. We saw some great stuff with the emphasis firmly on entertainment (befitting the brief nicely) and the judges (Jenny, Ivor and Neil, with exemplary timekeeping from Cal) decided that Jonathon Geary should retain his title. Well Done Jono!
On the 22nd, Dave hosted a fabulous lecture by Ferran Rizo and his wife Nataly Machado (pictured). They were wonderfully entertaining and there was some very clever and, most importantly, practical magic on show. They were both great fun, lovely people and we look forward to having them back in the North East of Scotland very soon.
November Meetings
November is always splendid and this year will be better than ever! On the 12th Norn will host a night about magic's Allied Arts. I hope that we'll see puppetry, ventriloquism, juggling, shadowgraphy, clowning, etc. Marvellous! On the 26th is our annual Social Night. The lineup has been announced and it is really good: Jono, James, Neil, Norn, Steve, Eoin, Lorenzo and Garry. Our job now is to sell tickets. Steve has hard copies and electronic versions can be obtained via the APA website.
Announcements
There is a Society email list available, which James looks after. Contact him for all of the details.
Next Month
December is traditionally pretty quiet, what with everyone busy with the holiday season, both at home and on the enttrtaining front. We only have one meeting (on the 10th) but what a meeting! This is another of our regular fixtures where the legendary Ron Gordon, our unofficial Dean of Magic, hosts a Technical Night. Ron usually presents something spectactular in his own inimitable style but also offers us all the chance to tap into his huge bank of knowledge with any technical (or other) issues that we may have. Added to that, there is usually a festive feel to the after meeting get together; last year I was as festive as a newt. Don't miss it!
Lapsed or Errant Member?
Are you a former member of the Aberdeen Magical Society? Have you lost touch with any current members and want to re-establish ties? Then drop us an e-mail at mail@aberdeenmagic.com or click on contact us.