News - December 2019
November Meetings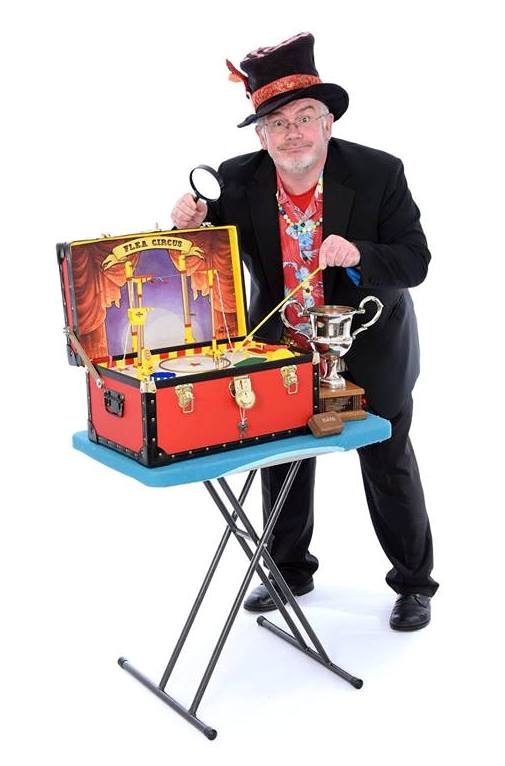 November was a ton of fun, with two very different but equally brilliant meetings.
On the 12th, Norn hosted an evening all about the Allied Arts. Norn kicked things off by talking about and demonstrating the use of balloons. Other members demonstrated some related arts. Stan swallowed a sword, Ron showed us the art of origami then he and Jeff showed us their puppets, Dave stacked dice, Steve spoke about hypnotism and James demonstrated how Boyle, Charles and Avogadro's laws can conspire against showing the use of static electricity. These were interspersed with Norn showing us chapeaugraphy, how to use a Troublewit and of course his wonderful Flea Circus (pictured).
On the 26th we held our Annual Social Night. This was a wonderful show with eight performers doing their thing in three rooms. As usual, our audiences had a great time, took full advantage of the bar facilities and even managed to endure the seemingly endless torment that was the raffle draw. The performers on show were Eoin, Neil, James Jono, Garry, the Balloon Mannies, Lorenzo and Steve. The room hosts were Jeff and Ivor (huddling together for safety), John and Dave. Our special thanks go to Maureen, Cathy, Jenny, Tara and Margaret who collected money, sold raffle tickets, welcomed our guests and were just all-round charming.
December Meeting
December is traditionally pretty quiet, what with everyone busy with the holiday season, both at home and on the entertaining front. We only have one meeting (on the 10th) but what a meeting! This is another of our regular fixtures where the legendary Ron Gordon, our unofficial Dean of Magic, hosts a Technical Night. Ron usually presents something spectacular in his own inimitable style but also offers us all the chance to tap into his huge bank of knowledge with any technical (or other) issues that we may have. Added to that, there is usually a festive feel to the after meeting get together; last year I was as festive as a newt. Don't miss it!
Announcements
There is a Society email list available, which James looks after. Contact him for all of the details.
Next Month
January traditionally kicks off (on the 14th this year) with an Ace of Spades Night; a recent addition to the tradition is the small matter of home-baked cakes and biscuits from Cathy Lewis. Her Malmaison training is put to good (and delicious) use and new Year resolutions of weight loss, reduction of sweet things intake, etc are pretty soon forgotten. Cathy still is not 100% health-wise, so Dave will probably host the evening; a poor substitute. There is a difference this year as the full title of the evening is "Ace of Spades - New Year, New Effect" so let's see something we've never seen you perform before!
On the 28th Neil McArthur will host an evening all about Bag Magic. This allows for a vast scope of effects but look out for Neil's email which will offer us all of the guidance that we'll need.
Lapsed or Errant Member?
Are you a former member of the Aberdeen Magical Society? Have you lost touch with any current members and want to re-establish ties? Then drop us an e-mail at mail@aberdeenmagic.com or click on contact us.