News - June 2019
May Meetings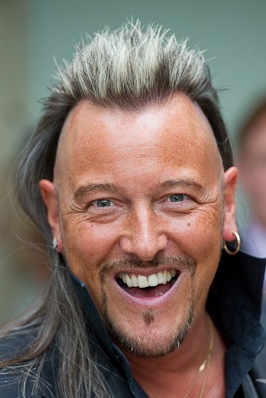 May had the usual two meetings which were both rather splendid.
The first was on the 14th and was all about Openers and Closers. Due to Ivor having to head southwards for work, Dave and Garry (pictured left) stepped in to host the evening. They both spoke at length about their ideas for starting and ending a set (even doing one or two practical demonstrations) and we had some terrific contributions from the membership as usual. Another good night.
The second meeting was on the 24th. Garry hosted, starting by talking about a full set he once did using paper. He demonstrated a couple of effects and then invited other members to show their own takes on the subject. He did some other nice paper-based effects between offerings from Dave, Paul, Bob, Ron, James, Jono and Stan.
With a little time to spare, Garry spoke to our first time attendee, Chris. We discovered that Chris' primary passion is collecting decks. He spoke on the subject with great eloquence and passion and very interesting it was too.
June Meetings
June may well be busting out all over but we have some great magic in store.
Garry Seagraves is our host (for the third meeting in a row) for the Bill Ducan Cup, presented for Close Up Magic. This meeting will be held on the 11th so start practicing now. The competition will be a terrific spectacle with great magic on show; a large field of entrants would make things perfect. There are two trophies up for grabs of course, with the President's Plate also on offer.
On the 25th Kelsie Murphy will host for the first time this yeart, presenting an evening on Circus and Sideshow. Should he like anyone else to participate in any way, I'm sure he'll let us know! This will be a great night, I am sure.
Announcements
There is a Society email list available, which James looks after. Contact him for all of the details.
Next Month
July should see hot weather and even hotter magic.
On the 9th Cal Reed will make his hosting debut, presenting an evening on Cards. Everyone attending should come prepared with a couple of effects; the more obscure, the better! This will be a great night, I am sure.
The 23rd sees Arthur Hadden host an evening based on his pet topic of Mental Magic. Arthur does a nice line in The Bizarre so we should be in for a great night.
Lapsed or Errant Member?
Are you a former member of the Aberdeen Magical Society? Have you lost touch with any current members and want to re-establish ties? Then drop us an e-mail at mail@aberdeenmagic.com or click on contact us.