News - December 2020
November Meetings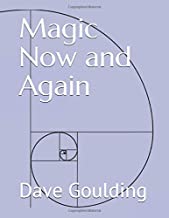 Blimey, November got busy! We had an extra meeting at the start of the month then pushed our first scheduled meeting back a week.
On the 3rd we took part in an inter-club get together organised by Glasgow M.C. which was fun. Garry spoke and performed on our behalf and he even plugged my book (good lad!). The Book cover is shown, left.
There was no meeting on the 10th as our lecture duo had double booked! Luckily for them we were flexible enough to adjust the date to the 17th. The lecture seemed to go down well with the members who were informed and entertained. One or two even got a bargain via the "lucky dip" offer.
Back to a Society-hosted meeting on the 24th. Steve Meredith did a splendid job of hosting "May the Force Be With You", concentrating as one might expect on the various incarnations of forcing. There were splendid contributions from Ivor, Ron, James, Jeff, Carl, our guest Paul and of course Steve himself.
Announcements
Due to the Covid-19 situation, our meetings are being held online. Please check out this site, our Facebook page and members' emails for further news.
There is a Society email list available, which James looks after. Contact him for all of the details.
Next Couple of Months
We are now back to something very close to our original programme, albeit online. December sees us back to two meetings. Ron hosts the traditional, annual Technical Night on the 8th and the 22nd sees An Evening with Bill Seagraves. January promises much with Ivor hosting Self-working Magic on the 12th and James looking after Social Media Magic/Magic without a Helper. Looks like a great start to the year.
Lapsed or Errant Member?
Are you a former member of the Aberdeen Magical Society? Have you lost touch with any current members and want to re-establish ties? Then drop us an e-mail at mail@aberdeenmagic.com or click on contact us.