News - May 2022
April Meetings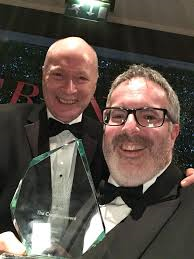 We were incedibly fortunate to be treated to two really great evenings during the month of April.
We started off on the 12th with an evening titled Home Made Props, with John Boyd as our host.
John started the evening off himself, talking about examples of props that can be made at home (be it your own home or that of someone else!). Everyone present and online took part and contributed in some way. It was a terrific night with John controlling the pace and introducing each participant beautifully. The time flew and when the last volunteer (your humble narrator) finished, there was just time for John to show us a final home-made piece, an example of which he presented to each of us.
The second meeting was on the 26th; a lecture from our own Jeff Burns and Ivor Smith (pictured, left).
They spoke about their work as Fifth Dimension, what they do and how and where they work. They also showed us some examples of what they do in terms of entertaining, projecting the clients' messages, etc. They stressed the importance of learning, planning and practice and also gaining help and advice wherever suitable, even collaborating with other performing professionals, magical and otherwise. Jeff and Ivor demonstrated a few nice effects and Jeff even regaled us with a full explanation of the legendary Burns Cull. A great night, thanks to 5D.
Announcements
We're back to holding meetings in person and online!
There is a Society email list available, which James looks after. Contact him for all of the details.
This Month
As usual there will be two meetings in May. We get started on the 10th when Jono will host A Night at the Movies. The second meeting is on the 24th when Eoin will be our host for "An Audience With..."
Lapsed or Errant Member?
Are you a former member of the Aberdeen Magical Society? Have you lost touch with any current members and want to re-establish ties? Then drop us an e-mail at mail@aberdeenmagic.com or click on contact us.