News - August 2017
July Meetings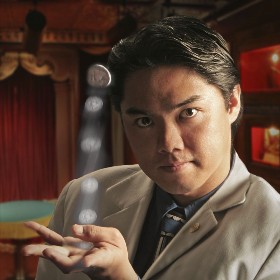 Back to two meetings in July. We started with a lecture from an undisputed superstar of the lecture circuit and followed it up with a meeting theming one of our favourite topics.
On the 11th was a lecture from the legendary Shoot Ogawa (left). He gave us a superb two hours of education and entertainment, showing us mainly brand new material and using some fresh props. Of course, we wouldn't let hiim get away without talking about and demonstrating some of his great work which made his name and reputation, namely his Matrices, his work with thimbles and of course, his fabulous Ninja Rings. Dave Hosting the evening and I think that everyone agreed that six years was too big of a gap between Shoot's lectures and that he shouldcome back soon.
On the 25th, the meeting was all about Mentalism. Steve hosted, stepping in at the eleventh hour due to unforeseen circumstances regarding availability.
Steve talked about Mentalism, what it entaiuled, how and when it should be done, etc., and did a few classics of the genre. He invited other members to perform and his invitation was accepted by Garry, Ron, Jeff, Jim, Bill Cowie, James, Arthur Hadden and Eoin. These performances were interspersed with Steve showing us some more Mentalism effects, both classic and new. When everyone was finished (and he saw the time), Steve thanked everyone for coming along and thanked the performers for their efforts.
August Meetings
August is perhaps the most important month in our calendar as it contains our Annual General Meeting..
We start on the 8th with our first TED type event this year when Jeff hosts an evening of talks themed on The Business of Magic. The participants are yet to be announced, so stay tuned for more news.
On the 22nd it's time for the Annual General Meeting where we will choose our Officers and Committee and have our say on how the Society should be run and what we'd like to see over the next year. This is a meeting that all members should attend and have their say.
Announcements
There is a Society email list available, thanks to the efforts of Mr. McGrath. To join the list, simply send an email to: john@magicbyjohn.co.uk or contact John or Dave. If we can get everyone in the Society onto the list it will greatly help in the distribution of information and allow us all to communicate swiftly and securely.
Next Month
September is looking pretty good. There will be two meetings and we are putting on a fund raising show.
On the 12th, Norn and Alex will host an evening of magic with as many of us as possible performing a "Trick from a Library Book". Lots of scope for a great night there!
Two days later, on Thursday the 14th, is the show at Portlethen Academy: Northern Sleights, with Jeff as our Master of Ceremonies and Producer. We will be raising funds for the Society but principally for Fishermoss Primary School.
On the 26th, Garry will be hosting our Competition for Entertainment, The Jocky Scott Trophy. This is always a great night with excellent, innovative and entertainiing magic on show and should not be missed. I'm confident that this year's entrants will be stronger than ever.
Lapsed or Errant Member?
Are you a former member of the Aberdeen Magical Society? Have you lost touch with any current members and want to re-establish ties? Then drop us an e-mail at mail@aberdeenmagic.com or click on contact us.