News - March 2023
February Meetings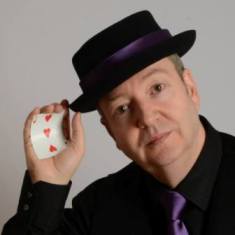 We were honoured to witness two simply magnificent evenings during February.
Our first meeting of the month was all about Money Magic. As I mentioned earlier, it was a truly magnificent meeting, due to our host Marcus Gordon. The magic that he showed us, in particular using coins, was astounding. He showed us some excellent coin magic, varying from being achievable with a bit of practice right through to knuckle-busting impossibilities. The main thing was that it was all entertaining and fascinating.
There were some nice contributions from other members including Scott, Garry, Jono and Steve (apologies if I have forgotten anyone).
The second meeting was on the 28th, when Ivor was our host for an evening all about Scripting. Ivor, as always, led the evening in an efficient, infomative, entertaining and professional way. He discussed many aspects of scripting from initial conception through to being able to include a deal of fluidity. He kept thing moving along nicely and he welcomed some terrific contributions from several members.
Once again, we had an excellent meeting which I am sure everyone went away from with at least one nugget stashed away. We must also note that our temporary hosts, Curl Aberdeen, provided a lovely setting and facility.
Announcements
There is a Society email list available, which James looks after. Contact him for all of the details.
This Month
Two meetings again in March. On the 14th our host will be Garry Seagraves, overseeing our first competition of the year: the Ron Gordon Cup for excellence in Card Magic. We already know that there will be at least four entrants and the quality is spectacular. Don't miss it! The second meeting is on the 28th and is called Carl Howse Clearance, a Sale/Auction of any items that members would like to recycle. Carl will provide more details nearer to the event.
Lapsed or Errant Member?
Are you a former member of the Aberdeen Magical Society? Have you lost touch with any current members and want to re-establish ties? Then drop us an e-mail at mail@aberdeenmagic.com or click on contact us.
Dave G