News - November 2017
October Meetings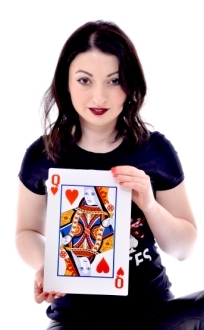 We got together on three occasions during October and they were all very interesting and entertaining. Our first get-together was on the 3rd when we met up and viewed the video of the Portlethen Show. This gave some people who weren't at the show a chance to see it and for everyone to offer some constructive criticism to the acts. I think it went quite well, even if some of the comments were not completely agreed with. There was popcorn available and Cathy provided some excellent cake too!
The first "official" meeting was on the 10th. The meeting was based around our competition for Entertainment, The Jocky Scott Trophy. There was a splendid field of seven competitors. In order of appearance they were: Steve Meredith, Neil McArthur, the Balloon Mannies, Cathy Lewis, Eoin Smith, James Dickson and Kelsie Murphy.
It was a really good competition, fulfilling the brief of being entertaining nicely. More importantly, there was some fine magic on show too. The judges, Ron, Carl and Jenny, had a very difficult task and in the end, for the first time ever, they could not come up with one outright winner. Therefore the trophy was shared by Neil and the Balloon Mannies, Norn and Darren.
After the presentation and obligatory photographs, the President (who hosted the event as beautifully as he always does) thanked all of the competitors for their tremendous efforts, the judges for the sagacity and Jeff for his time-keeping.
The second meeting was on the
24th
when
Cathy Lewi
s (pictured) hosted a
TED Nigh
t. Ron, James, Dave, Kelsie and Garry all spoke on varied and interesting topics. There was some good, thought provoking stuff on offer. Ron discussed Dai Vernon; James told us why he hates magic, Dave spoke about Magicians' Oaths and their meaning; Kelsie juxtaposed Music and Magic and Garry showed us some wonderful work with Invisible Thread. I don't think we've yet had a TED Night that has been short of brilliant!
November Meetings
November is always a very exciting month; the one in which we try to raise as much money as possible.
We'll start on the 14th. Dave will host an evening all about one of his favourite branches (or cousins) of magic, Escapology. This presentation will cover a lot of the basics of the subject, with demonstrations and a chance for everyone there to try some things for themselves. Having said that, should anyone want to show us their take on Escapes, please come prepared.
The second event, to be held on the 28th, is our annual Social Night, organised by Steve Meredith and Dave Goulding. The eight acts have been organised and will be as follows: Steve Meredith, Jim Aitken, James Dickson, Eoin Smith, Cathy Lewis, Garry Seagraves, The Balloon Mannies and Fifth Dimension. Room hosts, ushers, raffle sellers and ticket collecters will be needed. Most importantly, we need an audience, so please try your very best to sell as many tickets as possible. Eoin will once again lead our publicity drive and will be happy to help and advise anyone who needs his assistance. And don't forget raffle prizes!
Announcements
There is a Society email list available, thanks to the efforts of Mr. McGrath. To join the list, simply send an email to: john@magicbyjohn.co.uk or contact John or Dave. If we can get everyone in the Society onto the list it will greatly help in the distribution of information and allow us all to communicate swiftly and securely.
Next Month
December is always a fairly calm month in terms of goings-on as a Soiety; the main reason is that everyone is way too busy doing Christmas and holiday shows.
The only meeting is on the 12th. Ron will host a Technical Evening but he could come up with absolutely anything! it is usually a night of great fun with terrific magic on show. If everyone comes prepared with an item or two, we're guaranteed a good one
Lapsed or Errant Member?
Are you a former member of the Aberdeen Magical Society? Have you lost touch with any current members and want to re-establish ties? Then drop us an e-mail at mail@aberdeenmagic.com or click on contact us.