News - December 2022
November Meetings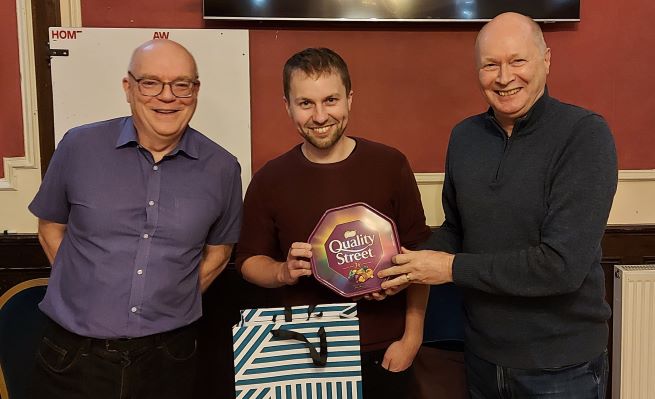 There were two wonderful nights for us to enjoy in November.
On the 8th, Eoin was the host for the long awaited, much postponed Quiz Night.
It was well worth the wait. Eoin did a great job in compiling the questions and acting as question-master, marker and adjudicator. Everyone enjoyed it and all teams comfortably recorded over half marks (ie everyone in attendance passed their written Magicians Exam!). The team of Jim, James and Ivor (photographed here) emerged victorious, had the obligatory photo-shoot and celebrated long into the night.
The second meeting was on the 22nd, our annual Social Night. The audience had a fantastic time and all thoroughly enjoyed the magical offerings of Smith & Burns, Carl Howse, Paul Rae, Jim Aitken, Jono Geary, Scott Clegg (putting in an excellent performance on debut), James Dickson and Garry Seagraves.
The sums haven't been fully done yet but we should make a nice amount to top up our funds. Thanks should be paid to Smith and Burns and Carl Howse for their extra efforts as M.C.s. A great job guys! Ivor put in an extra shift when, along with the Garry, he looked after the raffle draw.
Thanks also to the team behind the scenes: Eoin for organising the ticket sales; Jenny and Tara for raffle sales, Maureen for collecting tickets and cash, the staff at the Sportsman's and Dave for running about and shouting a lot.
Announcements
We're back to holding meetings in person and online!
There is a Society email list available, which James looks after. Contact him for all of the details.
This Month
There will be only one meeting in December but what a meeting! The legendary Technical Night hosted by the one and only Ron Gordon on the 13th. We're all out for a curry on the 20th too.
Lapsed or Errant Member?
Are you a former member of the Aberdeen Magical Society? Have you lost touch with any current members and want to re-establish ties? Then drop us an e-mail at mail@aberdeenmagic.com or click on contact us.
Dave G