News - October 2018
September Meetings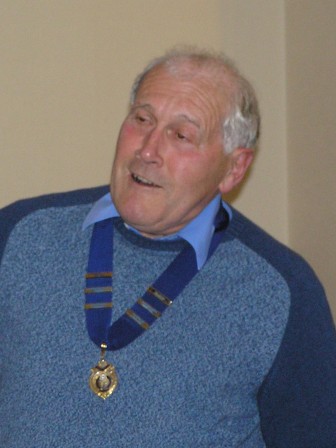 In September we had two excellent meetings, a terrific workshop but also an extremely sad occurrence.
The first meeting was on the 11th, a lecture from the highly creative, talented and entertaining magician and inventor, Noel Qualter. Noel was very recently given a much sought after award by the Magic Circle and judging by what we saw it was highly deserved. It was good to see one of his friends and an old chum of the Society, Roddy McGhie, accompanying him too! Eoin hosted the evening and everyone there thoroughly enjoyed it.
On the following evening, Noel presented a workshop on the subject of Creativity in Magic. This was limited to a very select group of participants who reported that they got an awful lot out of it and had a great time.
On the 25th we had another
Four Way Workshop
where four of our number passed on some valuable and practical knowledge to the rest of us, both theoretically and in practice.
Steve Meredith
showed his One Coin Routine;
Garry
gave a mastercalss in sleeving coins;
Marcus Gordon
was flexing his card muscles and
Dave
talked about and showed various marked decks, suggesting an effect or two using them.
During September we all suffered a huge blow when we heard of the passing of our Honorary Vice President and Past President Peter Nicol. Peter (pictured above wearing the Presidential jewel) was a great servant to and a valuable member of the Society and will be greatly missed. A Broken Wand ceremony was held in his honour at the meeting on the 25th which was also the day of Peter's funeral.
October Meetings
October should be rather good with two very special meetings.
We are starting on the 9th with our competition for Entertainment, the Jocky Scott Trophy. Steve Meredith will be hosting it, as the tradition of the President hosting will be set aside this year as Garry has to top up his tan. There will be great magic and superb entertainment on offer (at the competition, not at Garry's tanning session), so don't miss this meeting.
On the 23rd we will be welcoming another true superstar of magic: Dirk Losander!. This will be a wonderful show and lecture. I'm sure many of us have seen Dirk in action are looking forward to it almost as much as I am. Dave will host.
Announcements
There is a Society email list available, thanks to the efforts of Mr. McGrath. To join the list, simply send an email to: john@magicbyjohn.co.uk or contact John or Dave. If we can get everyone in the Society onto the list it will greatly help in the distribution of information and allow us all to communicate swiftly and securely.
We have another, new group address which James looks after. Contact him for all of the details.
Next Month
November is a month that I am greatly looking forward to.
We are starting on the 13th with a TED Talk meeting. The participants are yet to volunteer but it will, as always, be splendid. The names of the chosen few will appear on this page as soon as we have them.
On the 27th we will be holding our annual Social Night. This is our biggest fund-raiser each year so start selling tickets now! The eight entertainers will be announced soon and the publcity wagon will roll into action. It will be great.

Lapsed or Errant Member?
Are you a former member of the Aberdeen Magical Society? Have you lost touch with any current members and want to re-establish ties? Then drop us an e-mail at mail@aberdeenmagic.com or click on contact us.