News - July 2020
June Meetings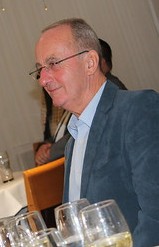 Unfortunately there were no actual meetings in June due to the on-going pandemic and the requirement for social distancing. As a Society, we've been doing our best to stay in touch via regular emails, our magazine and newsletter. We also had a virtual meeting on June 30th.
The meeting, via "Zoom" on the 30th (a fifth Tuesday), seemed to be enjoyed by everyone who took part. The benefit of it was that it allowed our Hon. Life President, Bill Seagraves M.I.M.C., to join us, live from New Zealand.
It was a very informal affair, consisting of general catching up and chatting, along with some demonstrations of magical effects. Chris spoke for a while about his extensive card collection too. It was lovely to see Steve Meredith join us from his hospital bed, awaiting kidney surgery. We all wish Steve (pictured) our very best wishes and hopes for a speedy recovery.
Announcements
Due to the Covid-19 situation, our meetings have been postponed for the time being. Please check out this site, our Facebook page and members' emails for further news.
There is a Society email list available, which James looks after. Contact him for all of the details.
Next Couple of Months
There will be no meeting in August (probably) but stay tuned for news of later months; we live in hope!
Lapsed or Errant Member?
Are you a former member of the Aberdeen Magical Society? Have you lost touch with any current members and want to re-establish ties? Then drop us an e-mail at mail@aberdeenmagic.com or click on contact us.